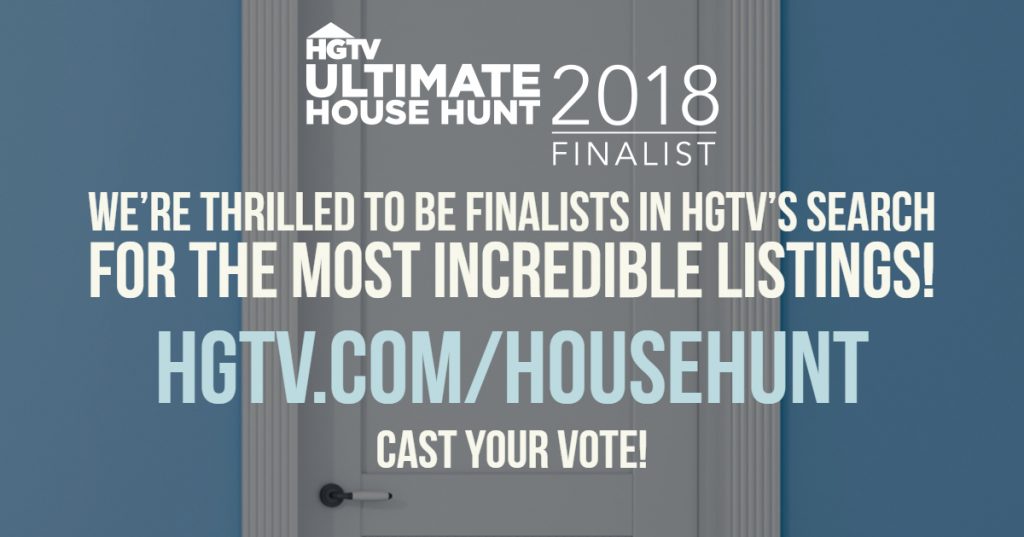 Valerie Schindler represents a property selected as a finalist in the 2018 HGTV Ultimate House Hunt, a month-long online promotion being held on HGTV.com from June 12 through July 17. During the contest period, consumers vote for their favorite homes among 88 finalists in eight different categories.  Click HERE TO VOTE for the Treehouse in the Extreme Homes Category
The listing was selected by editors of HGTV.com as a finalist in the Extreme Homes category, based on its extraordinary features and inspirational design, captured by striking photography. Additional categories include Amazing Kitchens, Curb Appeal, Global Homes, Homes with a History, Modern Masterpieces, Urban Digs and Waterfront Homes.
This is the seventh consecutive year HGTV has aligned exclusively with Windermere Real Estate global real estate network Leading Real Estate Companies of the World® and its luxury marketing division Luxury Portfolio International® to host the Ultimate House Hunt, which is one of the most popular contests on HGTV.com.
"We are thrilled that The Treehouse was selected as a finalist in HGTV's Ultimate House Hunt contest. The home was designed by renowned architect, Tom Bosworth, who captured the essence of the property's environment and translated it into a beautiful and unique home." The property owner comments: "Nestled in a vibrant green rainforest, surrounded by enormous Doug fir trees and bordered by pristine Dabob Bay, this modern-day Treehouse has an amazing spirit. It is an architectural treasure that sits gently on the forest floor nodding gracefully to its environment. As cliche as it may sound, every time we walk into this home our souls are renewed and the clutter of day-to-day life truly does disappear and we are left feeling extremely present and content in this small, undiscovered corner of western Washington. It's a breath of fresh air." Valerie Schindler, Owner/Designated Broker, Windemere Hood Canal.